Aaliyah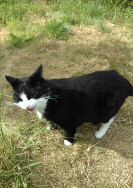 Shreen's previously "Fat Cat" was a rescue cat from Battersea Dog and Cats Home, adopted in 2006. She is partial to a treat and will flirt shamelessly until she gets one – Shreen has thankfully been able to train her husband not to give in and Aaliyah's waistline is now seeing the benefits. She loves affection except for the kind bestowed upon her by Shreen's young son. Aaliyah is quite precious by nature and is often referred to as the queen of the house.
Doris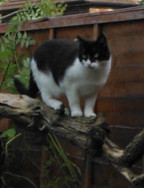 Doris the explorer, she's a hunter by nature and frequently presents Shreen with the catch of the season – frogs, birds, mice and once even a carp! The only thing she likes more than hunting is padding Shreen's husband's back while he sleeps.
Horatio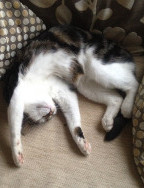 Brother to Doris, annoyance to Aaliyah. He is a bit of a cad, he likes to roam the neighbourhood. In the summer he will stay out for days at a time but when he returns he is very affectionate and will often curl up on a lap. Unfortunately he is also prone to the odd fight and at times has returned nursing a war wound or two. In 2013 he decided to take a 3 month holiday and was eventually identified by a vet several miles away – many thanks to his microchip for reuniting him with his very grateful family!
Our Foster Cats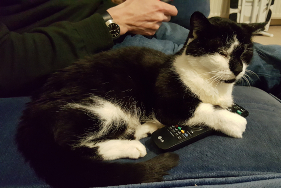 Amy's family doesn't have a permanent cat, but there's almost always at least one around the house! They take on various kitties in need of temporary accommodation, from clients' cats requiring a few months away from building works to Cats Protection foster cats in between homes to terminally ill but still happy old strays requiring a loving retirement. Here are just a few of the cats that they have been lucky enough to get to know over the years…