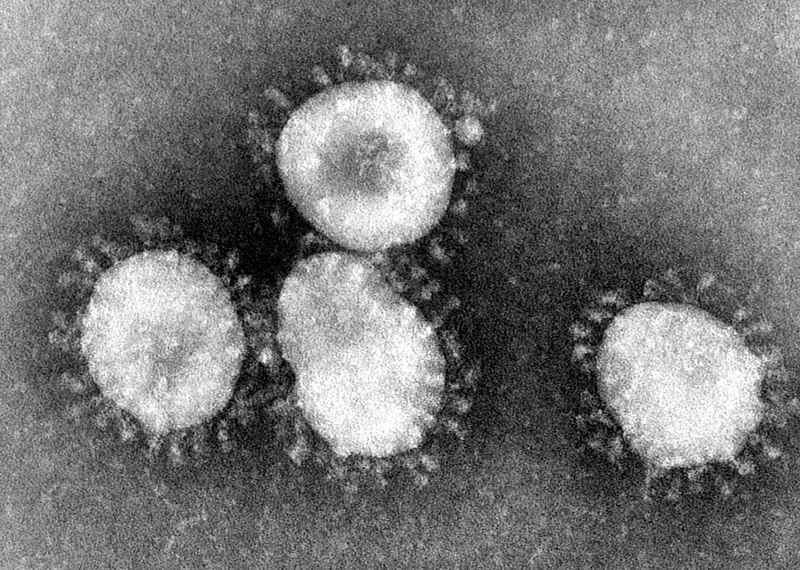 There is no doubt that the coronavirus outbreak and associated restrictions are causing a great deal of stress for everyone these days. Not least of which might include questions like whether or not pets can become infected with or transmit COVID-19, or what would you do if your pet needed to see a vet while you have been told to self-isolate? We all want to make sure that both our familes and our pets stay safe and healthy in these uncertain times.
It is important to remember that COVID-19 is a disease of humans, not pets. Research is being done as we speak to determine to what extent pets may be affected by this particular coronavirus and so far there has been very little cause for concern. We are following the advice of official organisations such as the WHO, WSAVA, BSAVA, RCVS and the UK Government closely and although this information is subject to update at any time, current guidelines state that :
There is currently no evidence of COVID-19 circulating in pets in the UK and nothing to suggest that pets might transmit the disease to humans. However, pets could act as fomite (carrier) of the virus on their fur for short periods in the same way that other surfaces can carry the virus from one place to another.

www.bsava.com
The CDC has taken extra precautions and stated that "You should restrict contact with pets and other animals while you are sick with COVID-19, just like you would around other people. Although there have not been reports of pets or other animals becoming sick with COVID-19, it is still recommended that people sick with COVID-19 limit contact with animals until more information is known about the virus. When possible, have another member of your household care for your animals while you are sick. If you are sick with COVID-19, avoid contact with your pet, including petting, snuggling, being kissed or licked, and sharing food. If you must care for your pet or be around animals while you are sick, wash your hands before and after you interact with pets and wear a facemask".
This essentially means treating your pets as you would other people in terms of social distancing, and maintaining good personal hygiene at all times. We appreciate, however, that having someone else care for your pet while you are ill is not always an option and we will continue to provide your cat with the care they need in this situation as detailed below.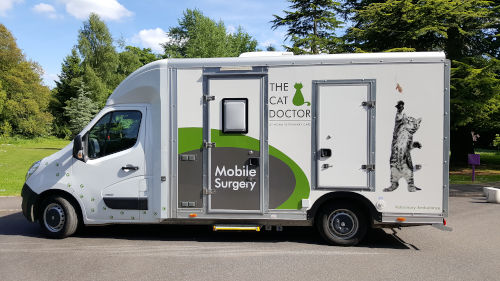 The Cat Doctor as a mobile veterinary practice is prepared and in fact very well-suited to continue providing care to your cat. In contrast to a clinic, we have no waiting room and as we see only a handful of people and their cats each day, which automatically limits our contact with those who may be infected. As restrictions on social contact become more intense, it is also vitally important that our mobile surgery (aka the Catmobile) allows us to provide home visits in isolation, without any contact between vet and owner. We are essentially the delivery service of the veterinary profession.
As a responsible animal health care provider, The Cat Doctor must operate in line with government and health organisation recommendations. Recent changes to these recommendations mean that we are no longer able to make visits inside your home. Furthermore, we, along with the rest of the veterinary profession, have been instructed by the RCVS to cease providing routine, non-urgent veterinary care. That said, we are very happy to conduct routine healthy cat checks by video consultation and would encourage you to use this service, please see Option 2 below.
We will do everything we can to continue to care for your cat in the event they need us during this time. We will remain available, provided staff levels allow, to see your cat if they are sick or painful. Therefore, if veterinary care is required, even if you yourself are ill or self-isolating, please ring us as normal and we will assist you in the most appropriate manner. This may include 1 of 2 options:
---
Option 1 – Video/Telephone Consultations
If a physical visit is not required, we may choose to provide advice via WhatsApp video or telephone call instead. For existing clients, we can use this to provide medical advice and dispense medications as required, provided we feel it is safe to do so. We are also happy to conduct healthy cat annual health checks via video consultation during this time, as we are still able and very willing to advise on routine care from a distance. This is ideal for owners who require new prescriptions for their cat's flea/worm prevention, for example. If you would like to book a routine video consultation, please let us know as we would be delighted to speak with you.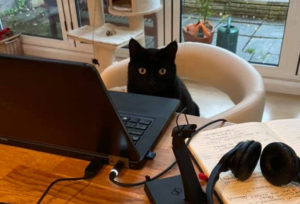 For those that are not already registered with us (ie, if we have never physically seen your cat before), the RCVS currently prohibits us from dispensing medications after just a telephone or video consultation. You are therefore advised to speak with your current practice if you require medications to be prescribed remotely as they may be able to do so in certain situations, even if this isn't normally the case.
If you are not currently registered with a practice or have not seen a vet in the past year, we may be able to assist so please get in touch. We can help you decide whether a vet visit is necessary and if you are in our practice area, we can provide that visit ourselves if/when possible. If we do end up coming to see your cat at home, we will deduct the cost of the video consultation from our visit fee.
To book a telephone/video consultation, please email info@thecatdoctor.co.uk or ring 07961 154886. The cost of this consultation is £25 and payment can be taken by card.
Option 2 – No Contact (Isolation) Home Visits
NOTE – only sick or painful cats can be seen at this time – we are currently unable to visit for routine services such as weight checks, nail trims and annual health checks/vaccinations for healthy cats as the benefit of such visits has been deemed not worth the risk to human health. This policy will be under constant review and we will return to normal services as soon as we are allowed.
For the immediate future and until restrictions are relaxed by the government, all visits will take place in the Catmobile (our mobile veterinary clinic with a consulting room and surgical theatre inside) outside your house. We will provide care for your cat inside our mobile surgery (provided we can park somewhere relatively nearby), completely avoiding direct human contact: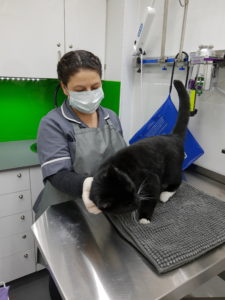 Medical history and treatment discussions will take place via phone or WhatsApp video call.
You will need to place your cat securely in a carrier (let us know if you need a carrier or are concerned that you may not be able to get them in one as we can advise) once we arrive and place them outside your front door for us to collect. I know, we hate cat baskets too, but we all need to do our bit and step outside our comfort zone when times are tough!
We will wear protective clothing (gloves, aprons and masks) when collecting and handling your cat.
We will use medical-grade hand sanitizer before and after each visit, as always.
We will spray the carrier, exam area, ourselves and your cat with a PET-SAFE disinfectant before and after the exam to minimise the already small risk of them carrying the virus on their coat.
We will then bring your cat back to your doorstep.
We can take payment via email, phone or posted cheque to eliminate the need for you to handle our card machine. The cost of this visit will be a bit higher than normal due to increased running costs of the much larger Catmobile (£95 plus any necessary treatment for those in our area, or starting at £150 if you live outside of our area).
If at any point you need to go into hospital or feel you are too ill to care for your cat, please let us know and we will do our best to assist according to your individual situation until you are feeling well enough to look after them again.
---
Don't worry, no matter which option you choose, your cat will still receive the same expert advice and gentle handling as normal!
---
Please note: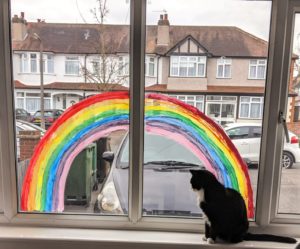 Due to an increased need for our services and the technical challenge of consulting in the Catmobile, we are no longer able to offer 2 hour time windows. Instead, you will be booked in for a particular day and we will let you know on the morning of your visit approximately when you can expect us. Please make sure you are happy with the protocols above before booking.
We want your cat to receive the care they need under any circumstances and will do everything we can to provide this, however if one of our 4 staff members becomes ill, we will ourselves self-isolate as recommended. In this situation, we may have to operate a reduced service or even stop visits for a week or two, in which case telephone/video consultations and medication delivery/collection/postage will be used if at all possible.
We will be constantly re-evaluating our policies in line with current government and health service advice. If you have any questions about our service during these uncertain times, please do not hesitate to get in touch.
---
Useful resources regarding COVID-19 and pets
When educating yourself about COVID-19 and particularly how this relates to your pet, please don't fall prey to uninformed or intentionally inaccurate social media or website posts that aim to spread fear and/or misinformation. See below for a list of official resources that you can use: