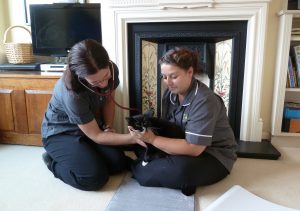 The Cat Doctor is a mobile cat vet in Surrey, UK – an experienced, feline-friendly veterinary practice providing medical care to cats in the comfort of their own home. From our very first home visit back in 2013, our founding vet Amy Bergs DVM MANZCVS (Feline Medicine) MRCVS, nurse Shreen Haywood RVN Cert FN and the rest of our cat-loving team have enjoyed doing things a bit differently. Saddened by seeing terrified cats (and owners) in the clinic and fed up watching cats being treated like second class citizens in practices focused on dogs, we wanted to create a way of getting cats the care they need without all of the unnecessary stress that so often comes with it. And so The Cat Doctor was created – no cat baskets, no dogs and no stressful car journeys – no more barriers between your cat and the high quality veterinary care they deserve.
That's not to say that it has always been easy however. Running a full-service veterinary practice out of just 4 bags regularly presented us with unique challenges but with each one came an equally unique solution which has resulted in a service which is unlike any other. It's amazing how much one can actually fit inside of a paramedic's bag, especially when that one is Shreen. We carry our own oxygen supply so that we can safely provide sedation to cats in the home. We can take blood samples whilst lying upside down on your kitchen floor. Performing surgeries under general anaesthetic was difficult for the first few years as we initially rented out theatre space from several very kind local practices. In 2017, however, we were incredibly excited to introduce the Catmobile – a seven metre-long mobile operating theatre on wheels and the first of its kind to be accredited by the RVCS. Thanks to the Catmobile we can now bring a truly comprehensive veterinary service to your doorstep.
Practicalities aside, it is actually our practice philosophy that most sets us apart from other vets. Because cats are all we see, we have the great luxury of being able to focus all of our attention on this most enigmatic of species. Our practice protocols are closely in line with those of the ISFM and International Cat Care, with a few tweaks here and there where we feel that common sense dictates a slightly different approach at home. We firmly believe that each cat is an individual and recognise that there is no 'one size fits all' approach their medical care. We vaccinate only when necessary and with those components that we feel are required based on each patient's level of risk. We do not 'push' products such as flea treatment and wormers in cases where they are not necessary but do strongly advocate palliative medications such as pain care for elderly cats with sore joints – our goal is to provide your cat with the best possible quality of life no matter their age or medical condition. Similarly, we appreciate the fact that cats ultimately want to be left alone and therefore do not recommend diagnostic tests or treatments unless we feel they are necessary and can explain why a particular procedure will benefit them. This sometimes means doing nothing at all so if a hands-off approach is what your cat needs, we will do our best to respect that.
So, whether you have a new kitten needing their first vaccination, a 21 year-old with hyperthyroidism, high blood pressure and kidney disease or an highly strung rescue cat who hasn't seen a vet in over a decade because she works herself up into such a state you just can't bear to put her through it… we're here for you.
Our Beliefs
All cats should:
Be provided with appropriate food, shelter and company
Be a healthy weight and body condition
Have both their physical pain and mental stress monitored and minimised
Be vaccinated according to their individual needs
Be free of parasites such as fleas and worms
Have access to veterinary care when needed
Never have to suffer from a disease that could have been prevented
A cat's vet should:
Love and understand cats
Be able to handle cats in a gentle but confident manner
Provide relaxed, thorough consultations in a comfortable environment
Be open to and discuss all treatment options
Have a fair and transparent pricing policy
Educate and involve cat owners
See each cat and owner as individuals and treat accordingly