When we make your appointment, we will give you a 2 hour window in which we will arrive. This allows for traffic and ensures that each patient is given the amount of time and attention that they require without having to rush off to the next appointment. On the day of our visit, we'll give you a ring when we're on our way so you know exactly when to expect us. If however you need us to be there at a particular time (for example, you need to leave the house by 11am), let us know when you book and we'll do our best to accommodate. If we've never seen your cat before, we will need to ring your previous vet to have the records transferred. This is standard practice and necessary to ensure good continuity of care for your cat.
Preparing for your cat's appointment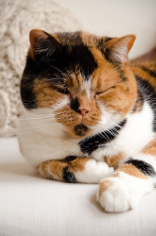 The day of our visit, please do your best to keep your cat indoors after breakfast (though please do NOT feed them that morning if there is a chance they may require sedation) as you want to be able to find them easily. When we ring to say we're on our way, simply bring your cat into an area of your house where all the doors and windows can be closed so they are not able to run out. Any room will do although dining rooms, kitchens and even bathrooms are preferred because cats, being clever creatures, will often hide under the bed or behind the sofa once they realise something is up. After they are safely contained in one room, go about your business as normal. If it helps, write down some of the things you'd like to discuss so we don't miss anything.
A typical visit
Once we arrive, we'll ask you all about your cat's recent health and have a chat about any concerns you may have while your cat says hello and gets used to our presence.
We then aim to do a full physical examination on each cat whenever practical, including weight and dental checks.
Following the examination, we will discuss any recommendations and perform any tests or treatments that may be necessary.
After our visit, we may recommend a recheck examination or sometimes just a quick text, email or phone call to see how your cat is getting on with their treatment. We rely on good communication and are always happy to chat so if you have any questions at any point, just ask!