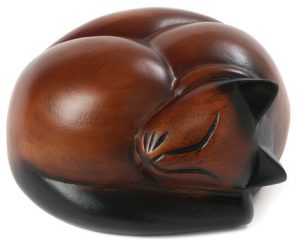 There comes a time in every cat's life when, despite all the love and care in the world, their quality of life deteriorates and they can no longer carry on. Knowing when to say goodbye is one of the hardest decisions you will ever have to make, yet this doesn't have to be a time of stress and worry for either you or your pet. Death should be peaceful and dignified, in a place where your cat is comfortable and calm.
What to expect
If you are considering a compassionate at-home euthanasia for your cat, ring us on 07961 154886 and we will guide you through the whole process and all of the options that come with it. When we visit your cat, we will gently give an injection of calming sedation so all they need to do is drift into a peaceful sleep and we encourage you to stay with them during this time. Once they are no longer aware of their surroundings, you may decide whether to stay with them or leave the room as we give the final injection.
Aftercare Options
If you have a suitable garden and would like your cat to have a home burial, a biodegradable casket can be provided. Alternatively you may prefer a communal cremation with no ashes returned or an individual cremation with your cat's ashes returned to you. We work with Chestnut Lodge Pet Crematorium and Cemetery in East Grinstead, a highly respected independent pet bereavement facility, but please let us know if you have a different preference. You may wish to keep the ashes in a special urn, or perhaps instead to arrange a small ceremony for friends and family to share memories followed by the scattering or burial of the ashes. If you would like a small memorial keepsake, a small fur clipping or clay pawprint can be taken.
Whatever your wishes, we want you to feel comfortable with your cat's care so please do not hesitate to ask if you have any special requests.
We are members of the IAAHPC and proudly support the Dignified Departures movement to promote compassionate, at-home end-of-life care.


For more information about euthanasia and bereavement, including support groups and memorial postings, please visit our Cat Health page on this topic.