Veterinary Surgeons
Amy Bergs
dvm manzcvs (Feline Medicine) mrcvs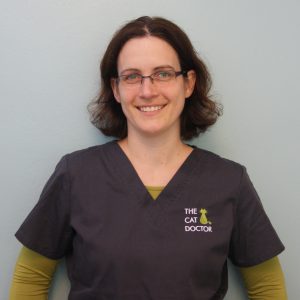 The Cat Doctor's director and founding vet Amy trained in America, graduating from Cornell University's College of Veterinary Medicine in 2006. After a year in general practice in Chicago, she met her English husband Robert and the pair relocated to Surrey where she worked in veterinary clinics in Esher, Shepperton and Richmond. Although she enjoyed working with all animals, she was constantly reminded that her real passion was for her feline patients with particular interests in feline internal medicine and preventative healthcare.
Seven years of clinic work taught Amy many things about cats and in particular, how easily they become stressed and the effects this stress can have on their health. Realising that most veterinary clinics naturally focused on the needs of their canine patients first, she wanted to create a practice that was entirely designed around the wellbeing of cats. This, of course, meant avoiding the clinic and the need to travel to it whenever possible! So in 2013, The Cat Doctor's home visit veterinary practice was born.
In 2016 Amy qualified as an RCVS recognised Advanced Practitioner in feline medicine. The following year, The Cat Doctor gained both RCVS Practice Standards Scheme and iCatCare Cat Friendly Clinic accreditation, the first fully mobile clinic in the UK to do so. She continues to attend lectures and conferences whenever possible and is an avid journal reader with the goal of learning something new every day.
When she's not working, studying or spending time with her family, Amy enjoys hiking, travelling, and singing with several choirs in and around London. She has grown up with cats all of her life and often fosters felines in need of a temporary home. She resides in Coulsdon with her husband/business partner Robert and two young sons.
Nikki Gaut
BVetMed MANZCVS (Feline Medicine) MRCVS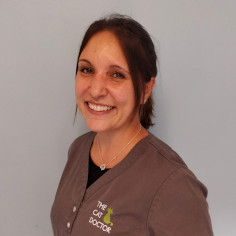 Nikki qualified from The Royal Veterinary College in 2003 and has spent the last 15 years working in and around London (including London's first cat-only clinic where she still also works today) whilst also being fortunate enough to practice and teach in Europe, Australia and India. She has always owned (or been owned) by cats and this has nurtured a love and fascination in this wonderful species, and a need early on in her career to learn more about them.
In 2014 Nikki sat the ANZCVS membership exams for Feline Medicine and was made an Advanced Practitioner in Feline Medicine by the Royal College of Veterinary Surgeons the same year. Her interests lie in feline behaviour and how it lies at the heart of so many presenting conditions, and she enjoys ultrasonography, dentistry and looking after her darling golden oldies! As a member of the ISFM Academy of Feline Practitioners Nikki is passionate about how cats are treated in veterinary practice, and has published numerous articles on the subject. She has also been a contributor, marker and mentor for the ISFM feline nursing certificates as an enthusiastic advocate of the importance of good feline nursing.
After losing her beloved furbaby Stanley last year after a long and brave fight with heart disease, for the moment Nikki is kept busy looking after her husband and toddler twin boys. She lives in Wimbledon and when she (rarely) gets a spare minute enjoys travelling, live music, hiking and yoga!
Sarah Merrett
BVetMed MRCVS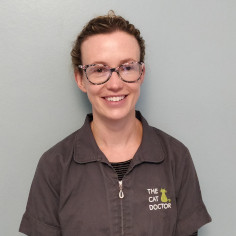 Sarah graduated from the Royal Veterinary College in 2005, after wanting to be a vet since she was 4 years old and never even considering any other profession. Her first job was in the companion animal part of a large practice in Salisbury and after a year she moved to Brighton and started working at the local PDSA Pet Aid Hospital where she spent six years treating mainly unwell and injured patients. After a few years staying at home to look after her young children, Sarah returned to practice life in a Brighton small animal clinic. Most recently, as interim clinical director she worked hard to introduce many feline-friendly changes including accreditation as an ISFM Cat Friendly Clinic.
After a lifelong love of cats and a passion for the veterinary care of feline patients, Sarah is excited to join the Cat Doctor team and focus more of her time on caring specifically for cats in their home environment. She enjoys the challenge of complicated medical cases and is currently enrolled on a two-year feline medicine course, so spends much of her spare time studying with her cat, Ziggy, always by her side. Sarah enjoys all aspects of feline veterinary care but is particularly interested in the care of senior patients, ultrasonography and feline dentistry.
Sarah lives in Brighton with her husband, children and two much loved cats who they rescued as kittens over 11 years ago, Ziggy and Xena.
Emily Plouzennec
BVSc MRCVS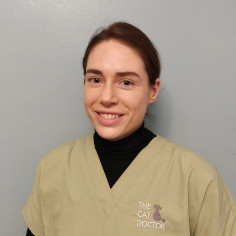 After graduating from The University of Liverpool in 2006, Emily initially worked for two years in mixed practice in The Midlands, treating horses, farm and companion animals. Realising that she much preferred her smaller patients, she moved down south to work in several clinics in Surrey, including a practice in Esher which is where she first met Amy, Shreen and Molly. Always 'that vet who's good with cats', we hoped we would get to work with Emily again someday and are very pleased to have her back as part of The Cat Doctor!
After ten years in general companion animal practice, Emily decided to focus on her real passion – cats. She has always had an interest in ultrasonography, feline internal medicine and especially senior cat care, inspired by her own two elderly and much loved moggies, Oscar and Oliver. As a result, she has developed a particular interest in chronic pain management and the wide variety of treatments that can be used to help keep cats comfortable as they age. In 2018 she completed a foundation course in veterinary acupuncture – a skill which we are now delighted to be able to offer to our feline patients.
She now lives in Guildford with her husband, their young daughter and their lovely old boy Oliver. She enjoys playing tennis, dancing and playing the flute.
Veterinary Nurses
Shreen Haywood
RVN Cert FN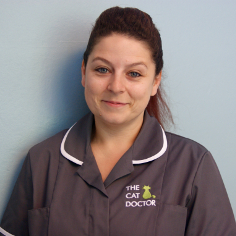 Originally from Bermondsey in London, our founding nurse Shreen gained a great deal of experience in both her studies (gaining an NVQ in business) and various employments before deciding that veterinary medicine was where she wanted to be. She achieved a distinction ANA (Animal Nursing Assistant) qualification whilst attending MYF Training in Aldershot to complete her NVQ in veterinary nursing, and became a registered member of the RCVS in 2010.
Working for vets in Mitcham, Esher and the RSPCA broadened her experience even further and although she enjoys caring for all animals, she has a particular soft spot for cats. Shreen has been an integral part of The Cat Doctor since day one and is excited to be part of a team that provides cats with the quality of care that they deserve. In 2017 she completed the ISFM certificate in feline nursing and uses this knowledge every day to ensure that our patients are happy and comfortable.
Shreen met her husband, David, whilst working in Wimbledon and they now share their home in Sutton with their young son. Cats have always been a part of her life and she has an incredible ability to put them at ease no matter what the situation, a skill much appreciated by her three current feline companions, Aaliyah, Doris and Horatio.
Molly St. George
RVN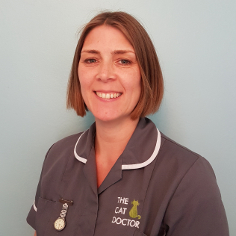 Molly joined us in March 2018, having previously worked at veterinary practices in Esher and Sutton. She was instrumental in helping her previous practice achieve the ISFM Cat Friendly Clinic award and saw first-hand how making small changes significantly improved the wellbeing of cats in a veterinary clinic. She was therefore thrilled to be part of The Cat Doctor team where care is tailored to each cat and their owners.
A break from a design career to volunteer at a wildlife rehabilitation centre cemented her decision to retrain as a veterinary nurse. Three years later she qualified with a Diploma of Veterinary Nursing from MYF College in Aldershot, a rewarding three years of combined study and work in practice. Her upbringing in rural Portugal was never without cats and dogs at home and volunteering at local vets, so it is little surprise that she has found her calling.
Having met her future husband during a spell of travelling around Australia, they chose to live in Surrey in 2004 and, in 2017, settled in Epsom with their two young children and two cats. The little spare time she has is split between keeping up to date on feline health matters and sharing her interest for horticulture with her family through outings to parks and gardens.