Regular health checks and preventative care are the best way to maintain good health
There is so much you can do to keep your feline friend happy and healthy now, to minimise their risk of becoming ill later and maximise their enjoyment of life.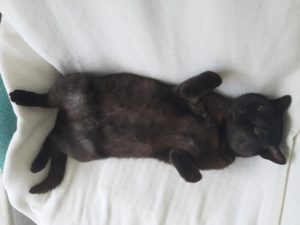 As general practitioners, we feel strongly that it is our duty to help you keep your cat as healthy as possible at all times. When your cat presents with an illness, we not only think about how to treat it, but how/if we could have prevented it or can prevent it from progressing to something more serious. At The Cat Doctor, we take a very proactive approach to your cat's health and happiness – in other words, their overall wellness.
Cats are masters of hiding signs of illness and pain, which means that even the most observant owners often don't realise there is a problem until the condition is quite advanced. Therefore, by far the best way to maintain wellness in cats is to thoroughly examine them (both physically and with regards to their happiness/anxiety levels) regularly and, as they get older, to perform regular screening tests such as blood, urine and blood pressure testing. If we aren't actively looking for problems, we might not spot them until it's too late.
We have done extensive research into what each cat needs at each stage in their life. A 'one size fits all' approach isn't appropriate for cats as the needs of a 1 year old a very different to those of a 15 year old. You can read more about our life stage recommendations on our website, or visit the CatCare4Life website for more information.
Each stage carries a different set of guidelines in terms of what checks are required when, which can be a bit overwhelming for owners. Therefore, to help you help your cat maintain optimal health and happiness, we have created a series of Wellness Plans to keep things simple.
What is included in each plan?
As a general rule, we recommend all cats are seen AT LEAST once a year by the vet and 6 months later by the nurse. At each visit we will perform a physical examination and discuss life stage-appropriate aspects of their care, making any necessary recommendations including vaccinations (we don't generally advise vaccination every year and have taken this into account in pricing the plans), medications and further screening tests if needed. As we will be with your cat in their own environment, we can also advise on how best to support them at home. Finally, we include unlimited telephone/video consultations in our plans for extra peace of mind – we want to encourage you to let us know if you have any concerns not just at our visits but throughout the year so we can address them before they become more serious.
The frequency of these visits and checks will generally increase as a cat gets older.
Which plan is right for my cat?
We will tell you when your particular cat needs to move up a stage based on their age and overall health, but as a general rule, we would recommend:
Young Cat Wellness Plan – suitable for kittens, juniors, adults and most mature cats (up to the age of approximately 10 years old)
Senior Wellness Plan – suitable for some mature and most senior cats (over the age of approximately 10 years old)
Extra Care Wellness Plan – suitable for some senior and most geriatric cats (over the age of approximately 15 years old)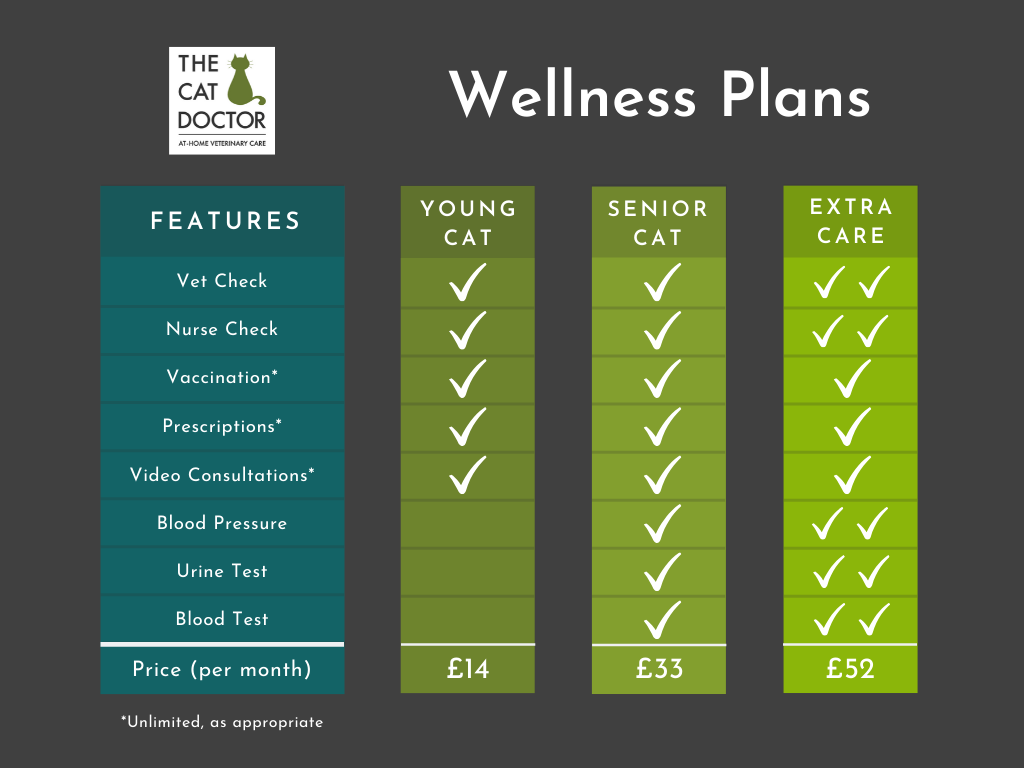 Plan members also get free postage/delivery throughout the year of any medications your cat may need that you are not able to get on prescription.
You don't have to choose the plan associated with your cat's age however, you are welcome to sign an older cat up for a young cat plan and pay for all screening tests separately for example.
We have kept everything as simple and straightforward as possible to ensure your cat gets what they need, when they need it, and we aim to remind you whenever a particular check is due. As you can see, some items are unlimited as these will vary by cat and our individual recommendations based on their overall health. Others are more set based on their life stage, which we will advise you on. Wellness plans also offer the added benefit of easy monthly payments taken by direct debit, with a discount for families with multiple cats. All you have to do is sign up once and then relax, knowing that you are doing the best for your cat.
Please note, wellness plans are not pet insurance. Pet insurance covers your cat when they are ill – wellness plans help minimise the chance of serious illness in the first place. Pet insurance and wellness plans work hand in hand to ensure your cat is covered for life.
Wellness plans are not mandatory, however we highly recommend all patients at The Cat Doctor either sign up for a plan or follow the life stage recommendations within them. In our experience, those cats who receive regular veterinary care throughout their lives are happier, healthier and more comfortable as they get older and we want all of our patients to benefit from that. We offer the plans to make things easier for you in terms of spreading the cost automatically over 12 months and making sure nothing gets missed when it comes to your cat's care.
If you have any questions about wellness plans, please get in touch or check out the terms below for more information. Or, to sign up now, simply click the button below to be directed to the sign-up page, hosted by Premier Vet Alliance:
---
Terms and Conditions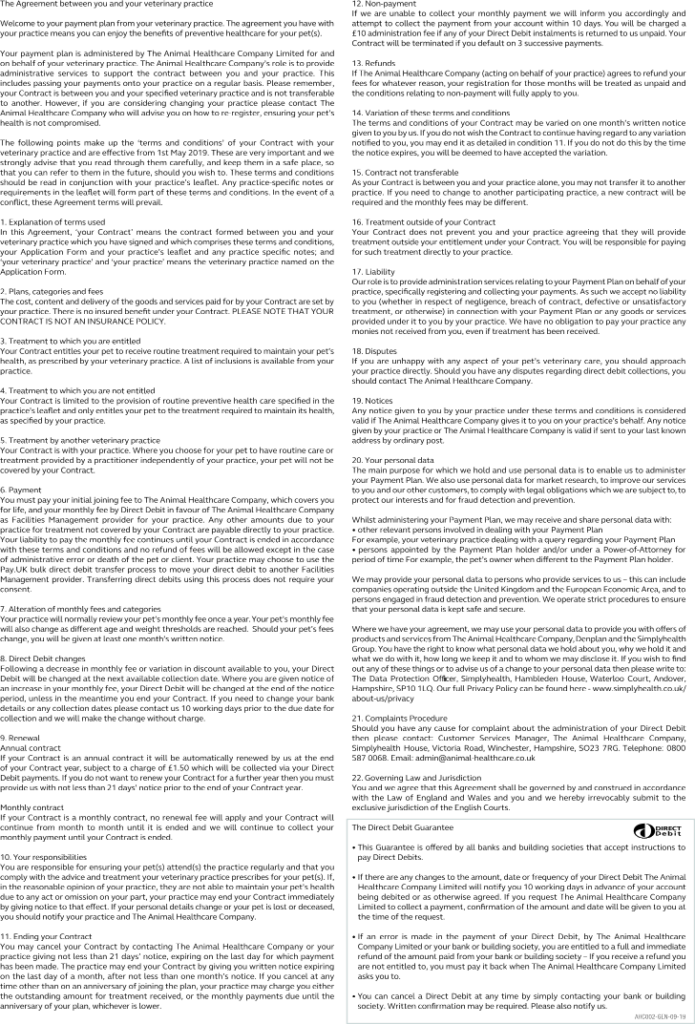 ---