Regular health checks and preventative care are the best way to maintain good health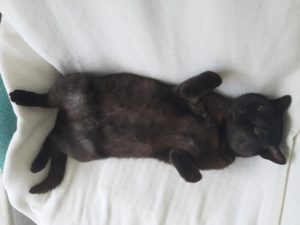 As your cat's general practitioner, we not only treat illness, but also aim to prevent it from occurring in the first place whenever possible. At The Cat Doctor, we take a holistic and proactive approach to your cat's health and happiness – in other words, we focus on their overall wellness.
Cats are masters of hiding signs of illness and pain, which means that even the most observant owners often don't realise there is a problem until the condition is quite advanced. Therefore, by far the best way to maintain wellness in cats is to thoroughly examine them (both physically and with regards to their happiness/anxiety levels) regularly and, as they get older, to perform regular screening tests such as blood, urine and blood pressure testing. If we aren't actively looking for problems, we might not spot them until it's too late.
We also appreciate that veterinary care is expensive, now more than ever. By having your cat seen regularly however, you not only gain peace of mind but also may end up spending less on their care overall by treating small problems before they become bigger, more costly ones. To help both you and your cats therefore, we offer the option of spreading their routine preventative care costs over 12 months with our wellness plans.
Please note – unlike some other practices, our wellness plan is not a discount plan – as a very small business, we are unable to offer discounts on our services. Therefore, you are not likely to save money overall as a plan member, it is merely a way of making your cat's routine care more affordable. We do not encourage clients to take out a wellness plan, but we are happy to offer it if needed.
What is included in each plan?
As a general rule, we recommend all cats are seen AT LEAST once a year by the vet and 6 months later by the nurse. At each visit we will perform a physical examination and discuss life stage-appropriate aspects of their care, making any necessary recommendations including vaccinations (we don't generally advise vaccination every year and have taken this into account in pricing the plans), medications and further screening tests if needed. As we will be with your cat in their own environment, we can also advise on how best to support them at home. Finally, we include telephone/video consultations in our plans at no charge for extra peace of mind – we want to encourage you to let us know if you have any concerns not just at our visits but throughout the year so we can address them before they become more serious.
Which plan is right for my cat?
We will tell you when your cat needs to move up a stage based on their age and overall health, but as a general rule, we would recommend:
Young Cat Wellness Plan – suitable for kittens, juniors, adults and most mature cats (up to the age of approximately 10 years old)
Senior Wellness Plan – suitable for some mature and most senior cats (over the age of approximately 10 years old)
You don't have to choose the plan associated with your cat's age however, you are welcome to sign an older cat up for a young cat plan and pay for all screening tests separately for example.
Please note, wellness plans are not pet insurance. Pet insurance covers your cat when they are ill whereas wellness plans cover the routine preventative care and screening tests that insurance generally won't pay for. Pet insurance and wellness plans usually work hand in hand to ensure your cat is covered for life, but there is occasionally some overlap so if your cat is insured, please speak with us before signing up for a wellness plan to make sure it is the right option for you.
We will do our best to remind you when your cat's next checkup is due, however we cannot be held responsible for care that is missed if you choose not to book a visit and no refunds will be given for plan items not used. If you don't feel you will benefit from the features of a wellness plan, please do not sign up for one.
Wellness plan or not, we highly recommend all cats are cared for according to the life stage recommendations that the plans are based on. In our experience, cats who receive regular veterinary care throughout their lives are happier, healthier and more comfortable as they get older and we want all of our patients to benefit from that. We offer the plans to make things easier for you in terms of spreading the cost automatically over 12 months and to help you ensure nothing gets missed when it comes to your cat's care.
If you have any questions about wellness plans, please get in touch or check out the terms below for more information. Or, to sign up now, simply click the button below to be directed to the sign-up page, hosted by Premier Vet Alliance:
---
Terms and Conditions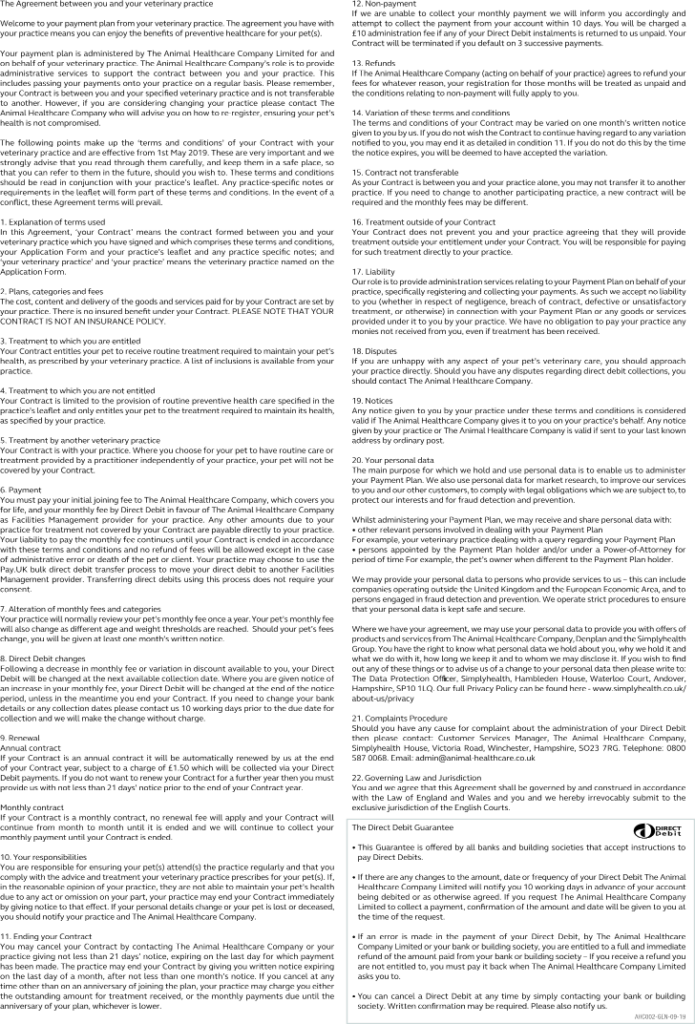 ---