So, we all know that the last two years have been… challenging. Everywhere you look, things have changed, and our little practice is no different. We're doing our best to get on with it and make the most of it like everybody else, and would like to take this opportunity to let you know what that means for you and your cat.
The good news is that despite Covid, Brexit and a veterinary profession on the brink of collapse, we're still here! Yay! 🙂 That is very much thanks to our brilliant clients and of course their gorgeous cats, who make it a joy to get up and go to work in the morning. We are incredibly grateful for your ongoing support and understanding.
We are, however, very much aware of how veterinary practice as a whole has evolved over the past 2 years, often at lightning pace and in ways that none of us could have predicted. When our fabulous vet Nikki moved away for example, I was not able to find a suitable replacement due to a national vet shortage, so we're down to one vet at the moment. As a result of this, and the added pressures of inflation, product shortages and more cats needing at-home care, it is no longer possible for us to carry on as we have been. Rising costs have made maintaining the Catmobile unsustainable and I, quite simply, can only be in one place at a time. So we have had to make a few changes.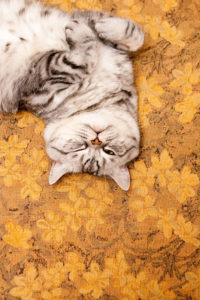 Moving forward, as a general rule, it may be helpful to think of us as your cat's GP – we manage their day-to-day care, with the support of your local feline hospital when occasionally the need arises. You wouldn't expect A&E to advise on the management of chronic health conditions any more than you would expect your GP to perform major abdominal surgery and the same is now true for cats.
Busy clinics no longer have time to focus on home care, while we no longer have the resources to provide emergency care, so rather than accept lower quality care, your cats can now benefit from the best of both worlds. At The Cat Doctor, we specialise in maintaining your cat's health, comfort and wellbeing at home, and take pride in doing that every day to the highest level. By leaving all of the fancy life-saving stuff to our fully-equipped colleagues at the hospital, we can all focus on what it is that we do best, and do it even better.
All Cat Doctor clients have already received an email regarding dual-registering with a local clinic (let us know if you think you should have, but didn't!), but if you would like any further information about how things will work moving forwards, please have a look around our updated website or feel free to get in touch at any time. We're always happy to hear from you, now more than ever.
As always, we are hugely grateful for your support and understanding as we continue to navigate the ever changing world of mobile veterinary care!