Those of you who have been with us for some time may have noticed a few changes lately. More than a few in fact, as when Shreen and I started doing home visits 5 years ago, we could have hardly imagined where we would be today! We've both studied hard and completed advanced certificates in feline nursing and feline medicine respectively, bringing specialist knowledge to our patients at home. The Catmobile (our 7 metre feline surgery on wheels) finally became a reality in 2017 after several years of planning, allowing us to perform procedures such as dental treatment and neutering right outside your door. We have acquired some very exciting new kit such as dental x-rays, a minimally invasive blood pressure monitor and a portable ultrasound machine (more on those later) and can now provide a more complete service in the comfort of your own home. Perhaps most importantly, our feline Dream Team has grown from 2 to 5!
When our brilliant second vet Mary told us she needed to work closer to home earlier this year (she's really enjoying her new job by the way, and sends everybody her best wishes!), I wasn't looking forward to trying to find a new vet to take her place. Would they fit in with the team? Would they be both knowledgeable and kind to our feline patients? Would our clients like them? Well, I couldn't be happier to say that we were so overwhelmed by the number of fantastic cat vets who applied for the position that we now have not one but two new Cat Doctors. They have hit the ground running and are settling in beautifully, and I couldn't be more proud of the way our little practice has grown.
So, who are The Cat Doctors? Allow me to introduce everybody (more on The Cat Nurses next time)…
Nikki Gaut BVetMed MANZCVS (Feline Medicine) MRCVS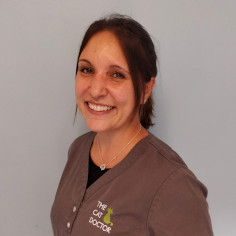 Nikki qualified from The Royal Veterinary College in 2003 and has spent the last 15 years working in and around London, including London's first cat-only clinic where she still also works today. She has always been fascinated by cats and in 2014 she completed her certificate in feline medicine to become an RCVS Advanced Practitioner in feline medicine. Her interests lie in feline behaviour and how it lies at the heart of so many presenting conditions, and she enjoys ultrasonography, dentistry and looking after her darling golden oldies! Nikki also enjoys writing about cats and has published numerous articles on caring for cats both at home and in a veterinary practice. After losing her beloved furbaby Stanley last year after a long and brave fight with heart disease, for the moment Nikki is kept busy looking after her husband and toddler twin boys. She lives in Wimbledon and when she (rarely) gets a spare minute enjoys travelling, live music, hiking and yoga!
 
Emily Plouzennec BVSc MRCVS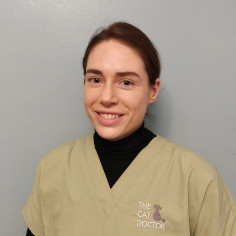 After graduating from The University of Liverpool in 2006, Emily initially worked for two years in mixed practice in The Midlands before moving down south. She has worked in several clinics in Surrey, including a practice in Esher which is where she first met Amy, Shreen and Molly. After ten years in general companion animal practice, Emily decided to focus on her real passion – cats. She has always enjoyed ultrasonography and feline internal medicine, especially elderly cat care. She has a particular interest in chronic pain management and recently completed a foundation course in veterinary acupuncture, a service which we can now offer our patients. Emily now lives in Guildford with her husband, their young daughter and their lovely old boy Oliver. She enjoys playing tennis, dancing and playing the flute.
Amy Bergs DVM MANZCVS (Feline Medicine) MRCVS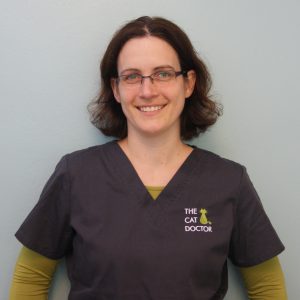 I am, of course, still here! If you're interested, you can read more about me along with the rest of us here. With all of these lovely ladies to help, I am now able to spend a bit more much-needed time in the office making sure everything runs smoothly behind the scenes with my husband and business partner Robert. With the help of everyone here we're working hard to keep The Cat Doctor at the forefront of feline veterinary care, always trying to come up with new and better ways of providing care at home in a way that is less stressful for everybody. Stay tuned for more exciting Cat Doctor news in the coming weeks!