Veterinary nurses are a special breed. Driven by a love of animals and a desire to care for them, they spend years training for their chosen profession, improving the comfort and welfare of every patient they meet. You may not always see them, but behind every good veterinary practice is a team of registered nurses making sure everything runs smoothly.
While vets are caught up with making a diagnosis and managing a case, nurses are always there looking after the best interests of the patient be it a warm blanket for sore joints, a bowl of fresh chicken for a poorly tummy or simply a reassuring cuddle. Vets prescribe the medication, but nurses have to figure out how to get the patient to take it. Your vet may tell you off for overfeeding your cat, but your nurse will work out a personalised diet and exercise plan to help them shed their extra weight. Far more useful in my opinion!
Here at The Cat Doctor we have been incredibly lucky to be able to work with some of the most talented cat nurses I have ever met. And our clients are lucky enough to meet them on a daily basis because our nurses are absolutely at the core of everything we do. Our vets are accompanied on most visits by one of our nurses, providing kind and gentle handling to put all cats at ease no matter what the situation. A wealth of knowledge, they also offer nurse consultations on their own for things like geriatric care, blood pressure checks, regular injections, nail trims, weight management and preventative care such as flea and worm treatments. If your cat has an surgical procedure, our nurses are by their side monitoring every second of their anaesthetic until they are awake and able to go back home.
Then there are the things that you may not see. Our nurses manage our kit bags and keep our equipment in top condition. They keep our operating theatre clean and shiny. They make sure we always have a full stock of any medications we might need and keep track of who needs to be seen so no cat gets left behind. Not to mention their help keeping track of our accounts, writing articles and client handouts and even designing our Christmas cards. Their list of talents really is endless and we would be positively lost without them.
So, now you know how brilliant they are, allow me to introduce our Cat Nurses!
Shreen Haywood RVN Cert FN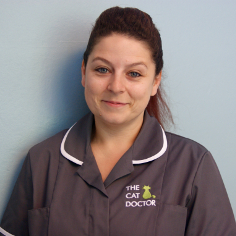 Shreen has been with us from day one, because about five seconds after I thought about starting a mobile cat clinic, I thought about Shreen to help turn the dream into reality. Having worked together previously for several years at a clinic in Esher, I knew immediately that she was what we needed. Originally from Bermondsey in London, she took a slightly circuitous route, first gaining an NVQ in business and working with several different companies before deciding that veterinary nursing was where she was meant to be. She achieved a distinction ANA (Animal Nursing Assistant) qualification whilst attending MYF Training in Aldershot to complete her NVQ in veterinary nursing, and became a registered veterinary nurse in 2010. Working for vets in Mitcham, Esher and the RSPCA taught her that although she enjoys caring for all animals, she has a particular soft spot for cats. Since joining The Cat Doctor in 2013 she has made it her mission to provide cats with the quality veterinary care they deserve. In 2017 she completed the ISFM certificate in feline nursing and uses this knowledge every day to ensure that our patients are happy and comfortable. She lives in Sutton with her husband, son and three cats.
Molly St. George RVN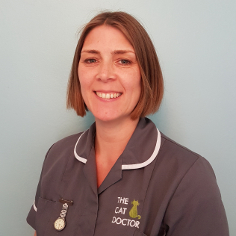 We were very fortunate to add Molly to our team in March 2018. Molly and Shreen had worked together for several years at the same practice in Esher so when we needed another nurse, we knew who to call! Before joining us, she also worked at a clinic in Sutton where she was instrumental in helping them achieve the ISFM Cat Friendly Clinic award and saw first-hand how making small changes significantly improved the wellbeing of cats in a veterinary clinic. In addition to all of her assistance on home visits, Molly is a huge help in the office as well, managing our patient reminders and making countless phone calls, texts and emails to make sure that every one of our patients gets the care they need. Molly also came to veterinary nursing in a slightly roundabout way, first training as a landscape architect and working for several years in local design firm. A break from this career to volunteer at a wildlife rehabilitation centre cemented her decision to retrain as a veterinary nurse. Three years later she qualified with a Diploma of Veterinary Nursing from MYF College in Aldershot, a rewarding three years of combined study and work in practice. Her upbringing in rural Portugal was never without cats and dogs at home and volunteering at local vets, so it is little surprise that she has found her calling and we are so lucky to be a part of it. Molly lives in Epsom with her husband, two young children and two cats.