We recently had the great pleasure of meeting Lulu, a very sweet 12 year-old tortoiseshell girl. Life was good for Lulu until sadly her owner passed away and for the past several months, she had been living alone in an empty house. No prior arrangements had been made for her care so when her owner passed away, her family tried to find Lulu a new home. All of the local rescue agencies were full of other cats in more desperate need of accommodation however. For several months her owner's daughter Christine, who has several dogs of her own and was therefore unable to take Lulu in, kindly made the trip across Surrey every day to feed and spend time with her.
When the house came to be sold however, there was no place for Lulu to go. Christine once again rang everyone she knew and thankfully that included one of our lovely Cat Doctor clients, Hazel. During a home visit to treat one of her cats, Hazel mentioned to us that Lulu's situation had become desperate. It just so happened that our previous foster cats, Molly and Mider, had recently been reunited with their owner so we had space at our home to take Lulu in while the search for her new forever home continued.
When Lulu arrived, she was very nervous. Having lived her whole life in one house, it must have been quite a shock to suddenly find herself in another. We set out a large kennel for her so she could start to feel secure in her own space. Plenty of blankets, a covered litter tray, tasty food and a covered box for her to sleep in all helped her find peace in her new environment. A Feliway diffuser helped turn a strange place into something a bit more inviting. We talked with her often and tried to stroke her a few times a day but mostly let her be while she got used to our presence.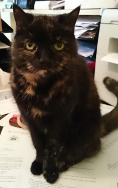 Three days after her arrival, she took her first tentative steps out of her kennel and into our office. The following day she discovered the windowsill which quickly became her favourite spot in the house. Two weeks after her arrival, she found the courage to explore the rest of the house, and even allowed herself to be stroked by my two young sons, a major accomplishment for a timid tortie! We were happy with her progress and felt she was ready to move on to a new home.
Fortunately for Lulu, the lovely Rosemary at the Epsom branch of Cats Protection rang to say that she had had an enquiry from a very kind woman looking to adopt an older cat. Unlike most people looking to adopt a cat, she didn't want a kitten, she wanted a calm, mature cat to share her quiet home – a perfect match!
A few days later I drove Lulu up to London to meet her new owner. Having looked after cats for many years, she was well prepared for her new housemate. I am pleased to report that, armed with the new social skills she learned during her stay with us, she hopped straight out of the carrier and onto the windowsill – no fear! A slow blink told me that she was happy with her new living arrangements, and her new owner was thrilled to share her home with such a lovely girl.
Lulu is a perfect example of how fostering a cat can help in many different ways. We were able to provide not only some food and a place to stay, but also a safe environment where she could learn how to once again live with people after spending so much time on her own. My family and I do miss her but we're so pleased that thanks to the help of many kind people along the way she was able to find her new forever home. Well done Lulu, enjoy your new life!
There are many cats like Lulu out there in need of temporary accommodation – if you have a little extra room in your home (and heart) to help a kitty in need, contact your local shelter or visit the links below for more information: