With the coronavirus pandemic now in full swing and the UK in lockdown, there is no shortage of things to worry about at the moment. There is also a great deal of confusion as new policies are put in place every day, before those issuing them have had time to fully consider how to apply them. In these difficult times, we want to assure you that The Cat Doctor is still able to offer veterinary care to your cat, even if you are ill or self-isolating yourself due to COVID-19.
In fact, as a mobile practice already, we are ideally suited to continue providing care during this crisis – we are the home delivery service of the veterinary profession – minus the bit where you have to spend 5 hours in a virtual queue for a delivery slot next month…
If you have any concerns about your cat's health, no matter how small, you can contact us as normal on 07961 154886 by phone, text or WhatsApp message, or by email on info@thecatdoctor.co.uk. You can also contact us through our website.
Our nurse will then advise one of two types of consultations with the vet:
Telephone/Video Consultations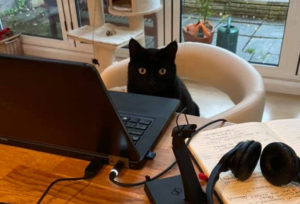 In the first instance, we may recommend a phone or video call with our vet Amy to determine whether a visit is required or if we can resolve the issue remotely by providing advice or posting out medication. The cost of this consultation is £25 (payment will be taken by card at the end of the call) and if a visit is later required for the same issue, we will deduct this from the cost of the visit. Video consultations are also a great way to continue the management of chronic medical conditions, renew flea/worm prescriptions etc during this period of social distancing and we are happy to discuss routine preventative healthcare using this method as well.
Please note, video consultations are obviously not as comprehensive as our normal consultations and therefore our examination and diagnostic capabilities are limited to what we can assess remotely. The RCVS has temporarily loosened regulations however which allow us to dispense medication to existing clients based on remote consultation alone, as long as you provide informed consent and we feel it is safe to do so.
Isolation Home Visits
The Catmobile allows us to bring a mobile consulting room to your door. We can do this even if you are ill or self-isolating yourself. All you need to do is place your cat securely in their (or our) carrier and we will collect them from your door. This allows us to maintain a 2m distance from you at all times. We will maintain strict hygiene measure as we take your cat into the Catmobile and perform a full physical examination. We will then ring you to discuss diagnostic and treatment options. Any necessary treatment will be provided before returning your cat to your door. We appreciate this isn't as convenient as our usual low-stress in-home visits, but feel it is the least stressful option currently available and far better than taking your cat into a clinic.
We will collect your cat from your door…

…and take them to our mobile surgery…

…for examination and treatment
The cost of an at-home isolation visit in the Catmobile is £95 plus any treatment given, a bit higher than normal due to the increased cost of running the larger van. Depending on availability, we are sometimes able to travel outside our normal practice area during this time of increased need, in which case the cost would be from £150 depending on your area, plus any necessary treatment. Payment will be taken by card over the phone at the end of the consultation. If you need a visit but aren't sure if we cover your area, please take a look at our contact page to check your post code or ring us on 07961 154886 to see if we are able to attend.
Don't worry, your cat will receive the same expert advice and gentle handling as normal!
---
Please be advised that as a mobile practice without full hospital facilities, we are NOT an emergency service. Although we can often visit on short notice, if your cat requires immediate medical attention or more care than can reasonably be provided at home, please ring your nearest clinic for assistance or phone Maven Vets in Sutton on 0208 337 2214 during normal business hours or for assistance out of hours you can ring either North Surrey Veterinary Emergencies in East Molesey on 0208 783 2850 or Stone Lion Veterinary Hospital in Wimbledon on 020 8946 4228.
For more information about how our visits have been designed to keep you and your cat safe, please visit the COVID-19 update on our website. If you have any questions about our service or any concerns regarding your cat's health, please do not hesitate to get in touch. Best wishes to you and your cats in these strange times!